17 mars 2014
1
17
/

03
/

mars
/

2014
09:39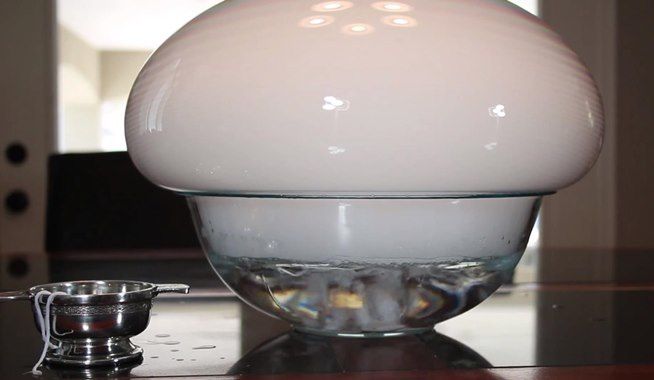 Dry ice

Materials
We use : -Gloves
-(Transparent) Basin with a large
-Strip of fabric (cotton)
-Graduated cylinder
-Small Dish
-Spoon
We use : -Solid Carbon Dioxide
-Water
-Dish Sorp
-Sugar
Attention
It's very cold, his temperature is 78.5°C.
If you touch it, your hands can disappear !
Experiment
Pour 50mL of water in a large jam pot.

Add 10g of sugar. Mix the ingredients.

Add 40mL of dish soap. Do not stir !

Add 20mL of glycerin. Stir gently (not too fast because bubbles will appeared !)

Add 80mL of water. Stir again.
Attention
Fill 2/3 of the basin with water.

With your oven mitt, take a piece of dry ice (with the gloves, of course) and put it gently in the water. Do not throw it !

Dip your fabric in the soap mixture.

Stretch it and slowly rub it along the edge of the basin in order to create a single bubble.

Wait for the bubble to grow and burst.

You can do it again if you have the time. (you can do the experiment again replacing water by a soft drink with quinina to observe under ultraviolet light)
Conclusion
It produces a big bubble :D.
English Classes @ Victor Schoelcher (77 - Torcy)